Formulated by experts combining creativity and know-how, Boomerang recycled paint is an innovative product with a commitment to sustainable development. Featuring a selection of 18 beautiful and inspiring colours in a soft velvet finish, our acrylic latex paint is a washable paint with superior hiding power and excellent adhesion. Boomerang recycled paint is the ultimate choice for decorators, contractors and DIY enthusiasts because of its excellent value for money and its environmental qualities.
In a market where the demand for environmental information is growing, manufacturers are looking for ways to communicate the environmental performance of their products. The Environmental Product Declaration (EPD) is a response to this new demand and is now the standard in North America for positioning products with respect to their environmental performance.  
Boomerang recycled latex paints from Laurentide Paint are subject to an Environmental Product Declaration. 
Environnemental Product Declaration (EPD)

What is an Environnemental Product Declaration ?

It is a document that informs the user about the impact of the product on the seven main environmental indicators, from its creation to its end-of-life management. In particular, it assesses greenhouse gas emissions, toxic substances, impacts on water, etc. This evaluation goes from the extraction of the raw material to the production, distribution and end-of-life disposal of a product. In the form of a label, the EPD ensures transparency for manufacturers and displays the environmental impact of products available on the market. 
An EPD is based on the results of a Life Cycle Assessment (LCA), a world-renowned scientific approach to analyzing the environmental footprint of a product or service according to the internationally recognized ISO 14040-44 series of standards. 
By selecting products with an EPD, construction projects can earn credits towards LEED v4 certification (Leadership in Energy and Environmental Design). 

What is a Life Cycle Assessment ?

It is a method that quantifies the environmental footprint of a product from the beginning to the end of its service life. From the extraction of resources to the recovery or reuse of the product, the LCA takes everything into account: manufacturing, transport, use, etc. Each of these steps involves the use of resources and energy, in addition to generating waste. It is the aggregation of these steps that defines the environmental footprint of the product.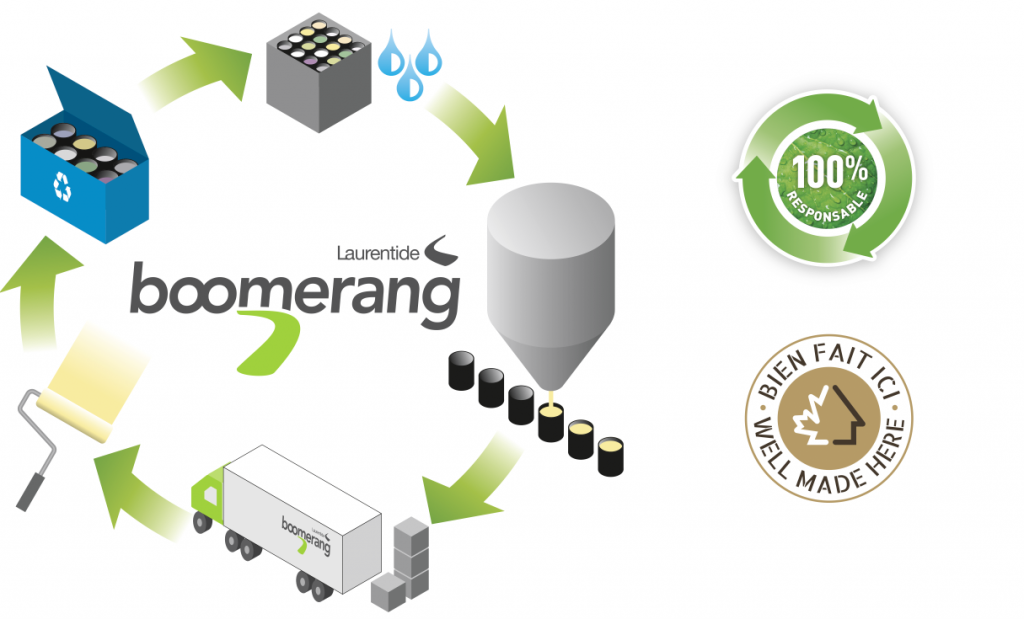 The Life Cycle Assessment of the 100% eco-friendly Boomerang paint shows that its production emits four times less greenhouse gases into the atmosphere than the production of any conventional paint. Thus, by producing 4,000 tons of recycled paint per year, Laurentide Re-Sources avoids an equivalent production of new paint, which would result in the emission of nearly 8,000 tons of CO2. This amount of gas avoided is equivalent to taking nearly 2,000 cars off the road each year. 
Laurentide Re-Sources has been able to divert more than 100,000,000 kilos of paint from landfills over the past 20 years through the Éco-Peinture program in Quebec and Product Care in the Maritime provinces. 
ECOLOGO: CERTIFIED PRODUCT WITH LOW ENVIRONMENTAL IMPACT

 
ECOLOGO® certified products, services and packaging are certified for their reduced environmental impact. ECOLOGO certifications are voluntary, multi-attribute, life cycle-based environmental certifications that indicate that a product has undergone rigorous scientific testing, a comprehensive audit, or both, to prove compliance with strict environmental performance standards set by third parties. These standards set parameters for a wide variety of criteria in some or all of the following categories: materials, energy, manufacturing and operations, health and the environment, product performance and use, and product stewardship and innovation. 
Boomerang products are manufactured from unused portions of recovered household paints. A small amount of new materials is added to the recovered paint to ensure that the quality criteria are met. Boomerang latex paint is a low-gloss, high-quality paint that can be applied in most rooms of the home – on walls and ceilings – where a durable, washable, low-gloss finish is required.
Do you have any other question?